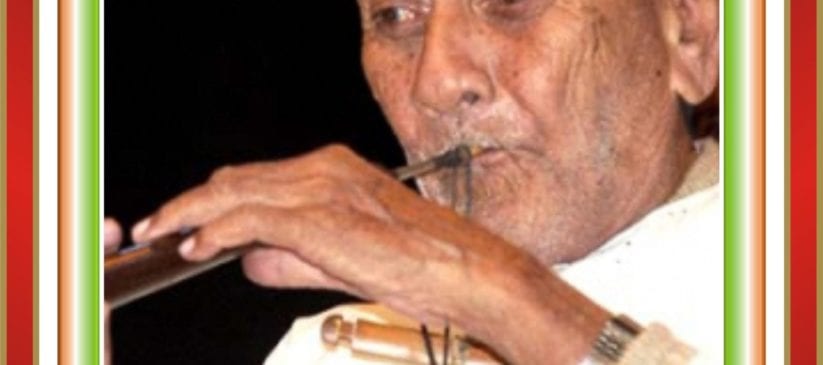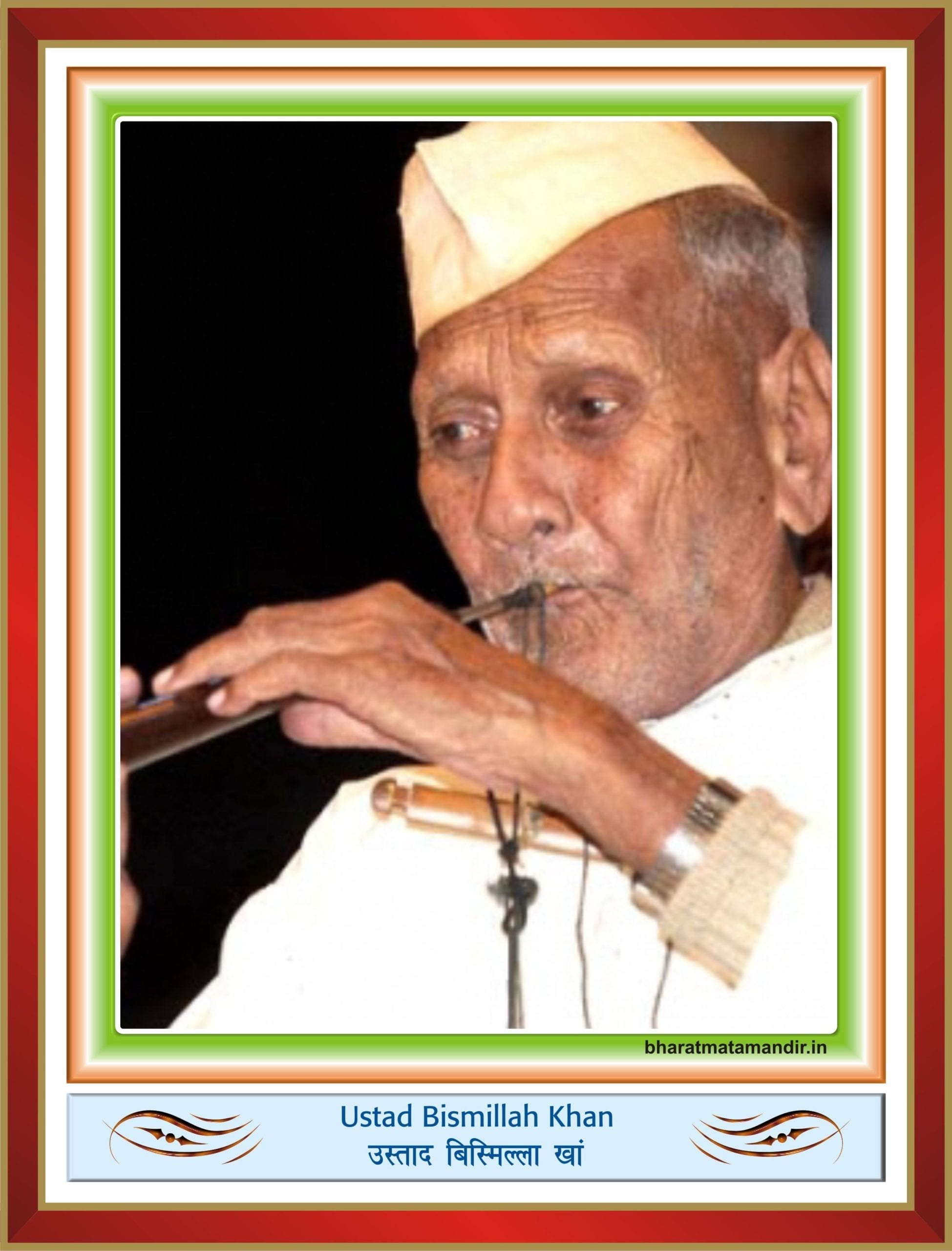 Ustad Bismillah Khan Sahib (Urdu: استاد بسم اللہ خان صاحب; March 21, 1916 – August 21, 2006) was an Indian shehnai maestro. He was the third classical musician to be awarded the Bharat Ratna (in 2001), the highest civilian honour in India and gained worldwide acclaim for playing the shehnai for more than eight decades [1].
Early life and background
Bismillah Khan was born at Bhirung Raut Ki Gali, in Dumraon, Bihar as the second son of Paigambar Khan and Mitthan. He was named as Qamaruddin[2] to rhyme with Shamsuddin, their first son. His grandfather, Rasool Baksh Khan uttered "Bismillah" (the basmala) after looking at the newborn, thus he was named Bismillah Khan.[3]
His ancestors were court musicians and used to play in Naqqar khana in the princely states of Bhojpur, now in Bihar. His father was a shehnai player in the court of Maharaja Keshav Prasad Singh of Dumraon Estate, Bihar.
At the age of six, he moved to his maternal house, located close to the Ganges at Varanasi[1]. He received his training under his uncle, the late Ali Baksh 'Vilayatu', a shehnai player attached to Varanasi's Vishwanath Temple.[2]
Religious beliefs
Though a pious Shi'ite Muslim, he was also, like many Indian musicians, regardless of religion, a devotee of Saraswati, the Hindu Goddess of wisdom and arts,[4] and often played at Hindu temples, including the famous Vishwanath Temple in Varanasi, on the banks of the river Ganga.[5] He also performed for spiritual master Prem Rawat.[6]
Career
Bismillah Khan was perhaps single handedly responsible for making the shehnai a famous classical instrument. He brought the shehnai to the center stage of Indian music with his concert in the Calcutta All India Music Conference in 1937. He was credited with having almost monopoly over the instrument as he and the shehnai are almost synonyms.
Khan is one of the finest musicians in post-independent Indian Classical music and one of the best examples of Hindu-Muslim unity in India and had played shenai to audience across the world.He was known to be devoted to his art form that he referred to shehnai as his begum, wife in Urdu, after his wife died. On his death, as an honour, his shehnai was also buried along with him.He was known for his vision of spreading peace and love through music.
| | | |
| --- | --- | --- |
| " | Even if the world ends, the music will still survive | " |
.
Khan had the rare honor of performing at Delhi's Red Fort on the eve of India's Independence in 1947. He also performed Raga Kafi from the Red Fort on the eve of India's first Republic Day ceremony, on January 26, 1950. His recital had become a cultural part of India's Independence Day Celebrations, telecast on Doordarshan every year on August 15. After the Prime Minister's speech from Lal Qila (the Red Fort,) in Old Delhi, Doordarshan would broadcast a live performance by the shehnai maestro. This tradition dated from the days of Pandit Nehru.