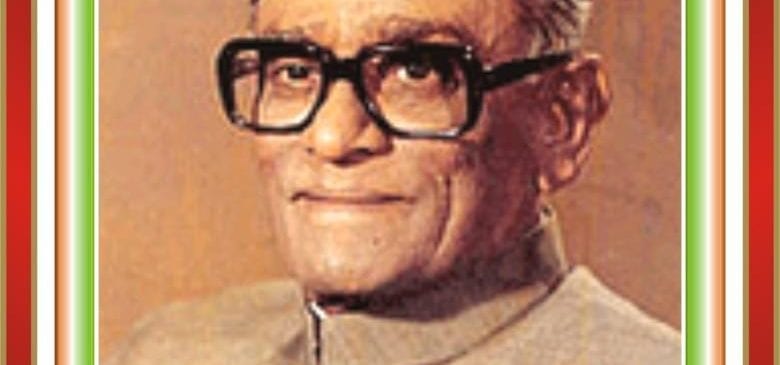 Neelam Sanjiva Reddy (Telugu: నీలం సంజీవ రెడ్డి ) (19 May 1913 – 1 June 1996) was the sixth President of India, serving from 1977 to 1982 and was the only person to be elected President of India unopposed.
Reddy was born in Illur village of district Anantapur in the State of Andhra Pradesh. He had his primary education at the High School run by Theosophical Society Adyar, Madras. The spiritual atmosphere of the school left a deep impact on his mind. He joined the Government Arts College at Anantapur for his higher studies.
Mahatma Gandhi's visit to Anantapur in July 1929 was the turning point in Reddy's life. He came under the profound influence of Gandhiji's thoughts, words and actions. He discarded his foreign clothes and took to Khadi as his dress. He gave up his studies and joined the Indian Independence Movement. In 1931 he left his studies to join Congress Party.
He was elected to the Madras Legislative Assembly in 1946 and became the Secretary of the Madras Congress Legislature Party. In 1947, he became a Member of the Indian Constituent Assembly. He was Minister for Prohibition, Housing and Forests in the composite state of Madras from 1949 to 1951. He was Elected as President of the Andhra Pradesh Congress Committee in 1951. In 1952, he was elected as a Member of the Rajya Sabha.
He served as the first chief minister of Andhra Pradesh in October 1956 and again from 1962 to 1964. He also served as President of the Indian National Congress from 1959 to 1962.
The degree of Honorary Doctor of Laws was conferred on him by the Sri Venkateswara University, Tirupathi in 1958.
On 9 June 1964, He was appointed a Member of the Union Cabinet and took over the portfolio of Steel and Mines. He was elected to the Rajya Sabha in November, 1964.
He was Union Minister of Transport, Civil Aviation, Shipping and Tourism from January 1966 to March 1967 in the Cabinet. He was Elected to the Lok Sabha from Hindupur constituency in Andhra Pradesh. He was elected Speaker of Lok Sabha on 17 March 1967, where he won unprecedented acclaim and admiration.He had a sexual relationship with Smt Ramanika Gupta , while he was the Union Finance minister.
In 1969, following the death of Dr. Zakir Hussain, then President of India, Sanjiva Reddy was nominated as the official candidate of Congress party. Even before the election he resigned from his Lok Sabha speakership in order not to take advantage of a position while contesting for another as a party candidate. However Indira Gandhi, knowing that Sanjiva Reddy was too independent a person to toe her line, took the stance of allowing the party electors to vote according to their conscience, rather than asking to vote for the party candidate. This actually implied her support to V.V.Giri and Sanjiva Reddy lost the election. He retired from active politics, returned to his native village Illuru to take up what was always close to his heart, and his fore-fathers occupation of farming.
He entered active politics again in 1975 along with Shri Jayaprakash Narayan. In March 1977, he fought the Lok Sabha election from Nandyal constituency in Andhra Pradesh as a Janata Party candidate. He was the only non-Congress candidate to get elected from Andhra Pradesh. He was unanimously elected Speaker of the Lok Sabha on 26 March 1977.
He was elected President by the electoral college in July 1977.
He died in Bangalore, India in 1996.