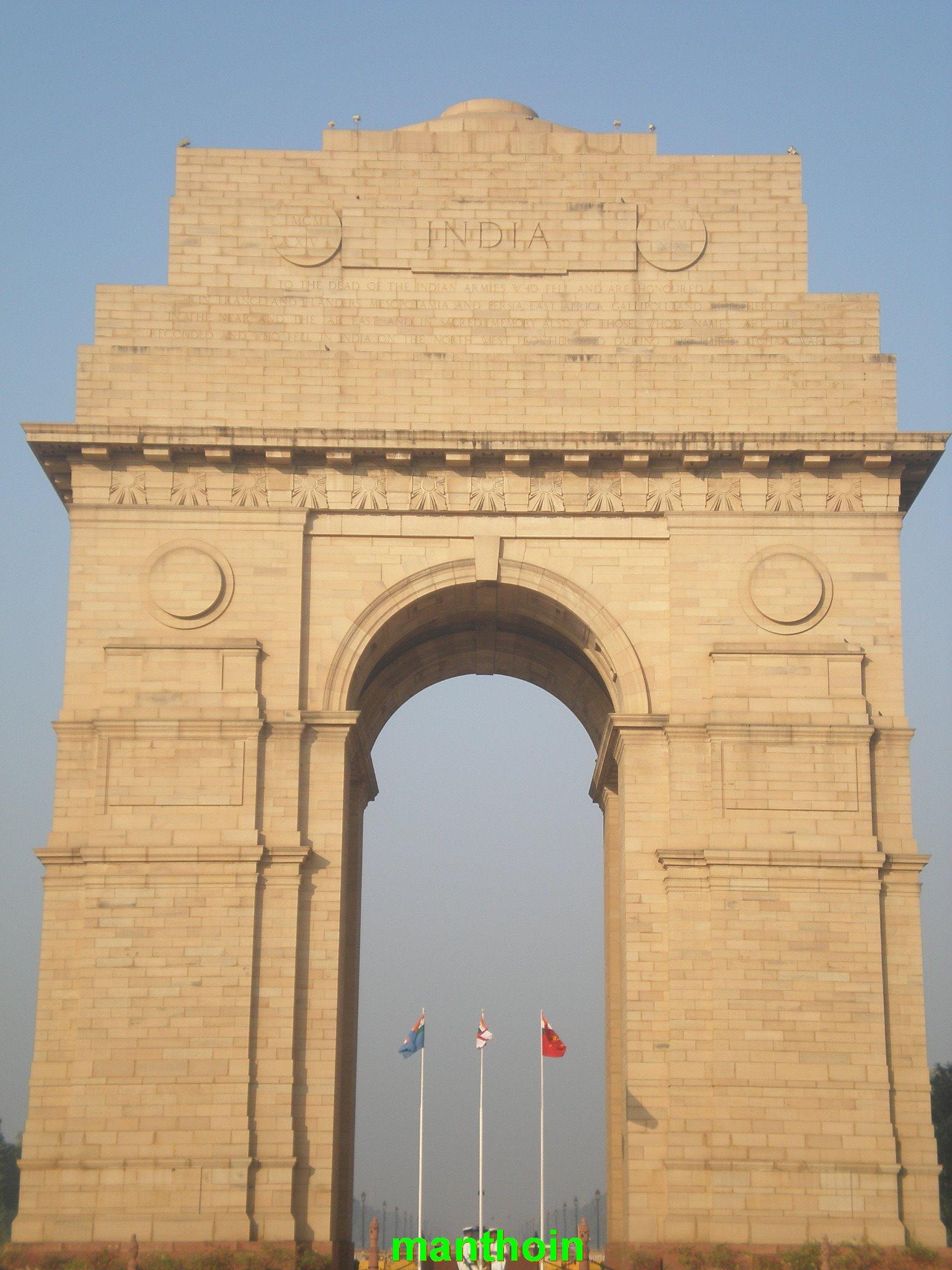 INDIA GATE
The 42-metre tall India Gate is situated such that many important roads spread out from it. Traffic passing around India Gate used to be continuous until the roads were closed to the public due to terrorist threats.
The lawns around Rajpath are thronged by people during the evening, when the India Gate is lit up.
Amar Jawan Jyoti
The Shrine of the Amar Jawan Jyoti.
Burning in a shrine under the arch of India Gate since 1971 is the Amar Jawan Jyoti (the flame of the immortal warrior) which marks the Tomb of the Unknown Soldier. The shrine itself is a black marble cenotaph with a rifle placed on its barrel, crested by a soldier's helmet. Each face of the cenotaph has inscribed in gold the words "Amar Jawan" (Immortal Warrior).
This cenotaph is itself placed on an edifice which has on its four corners four torches that are perpetually kept alive. It was unveiled in 1931.
Today, it is customary for the President and the Prime Minister, as well as visiting Guests of State, to pay homage at the site on occasions of State ceremonies, and each Republic Day, 26 January, the Prime Minister pays homage to the soldiers along with Heads of Armed Forces, before joining the annual parade at the Rajpath.
Standing right behind the gate is an empty canopy of made out of sandstone, also designed by Lutyens, and inspired by a 18th century Mahabalipuram pavilion, that until Independence of India in 1947 had the statue of King George V, which now stands in the Coronation Park, Delhi. There were multiple plans and calls to have a seated or standing statue of Mahatma Gandhi installed, which were subject to debate and have not been agreed upon.