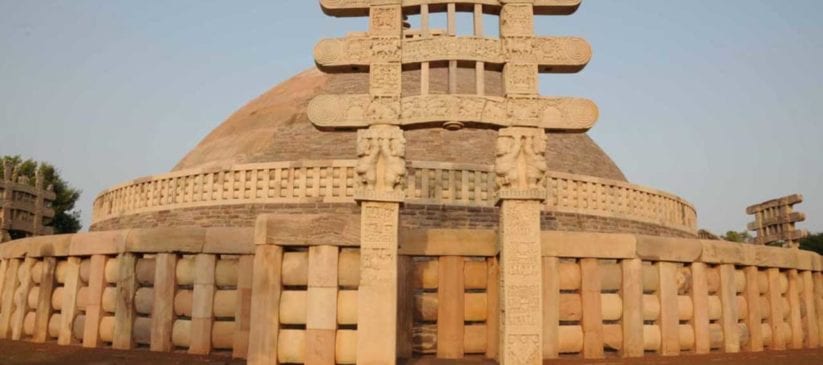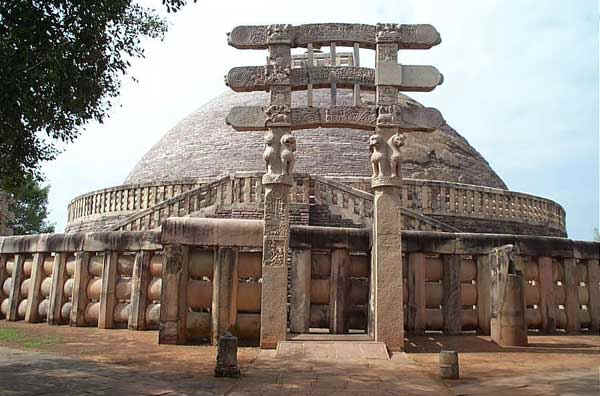 Sanchi
Sanchi is located at 23°29′N 77°44′E / 23.48°N 77.73°E / 23.48; 77.73[2]. It has an average elevation of 434 metres (1423 feet).
Sanchi might have originated from Sanskrit and Pali word Sanch meaning To Measure. In Hindi, however Sanchi or Sancha means for Moulds of Stones.
The stupa was vandalized at one point, sometime in the second century BCE, an event some have related to the rise of the Sunga emperor Pusyamitra Sunga. It has been suggested that Pushyamitra may have destroyed the original stupa, and his son Agnimitra rebuilt it.[3] During the later rule of the Sunga, the stupa was expanded with stone slabs to almost twice its original size. The dome was flattened near the top and crowned by three superimposed parasols within a square railing. With its many tiers it was a symbol of the dharma, the Wheel of the Law. The dome was set on a high circular drum meant for circumambulation, which could be accessed via a double staircase. A second stone pathway at ground level was enclosed by a stone balustrade with four monumental gateways (toranas) facing the cardinal directions. The buildings which seem to have been commissioned during the rule of the Sungas are the Second and Third stupas (but not the highly decorated gateways, which are from the following Satavahana period, as known from inscriptions), and the ground balustrade and stone casing of the Great Stupa.
Carved decoration of the Northern gateway to the Great Stupa of Sanchi
The gateways and the balustrade were built after 70 BCE, and appear to have been commissioned by the Satavahana. An inscription records the gift of one of the top architraves of the Southern Gateway by the artisans of the Satavahana king Satakarni:
"Gift of Ananda, the son of Vasithi, the foreman of the artisans of rajan Siri Satakarni
Detail on the Sanchi stup
Some of the friezes of Sanchi also show devotees in Greek attire (Greek clothing, attitudes, and musical instruments) celebrating the stupa[5].
A British officer in 1818, General Taylor, was the first known Western historian to document (in English) the existence of Sanchi (Sāñcī). Amateur archaeologists and treasure hunters ravaged the site until 1881, when proper restoration work was initiated. Between 1912 and 1919 the structures were restored to their present condition under the supervision of Sir John Marshall
Today, around fifty monuments remain on the hill of Sanchi, including three stupas and several temples. The monuments have been listed among the UNESCO World Heritage Sites since 1989.