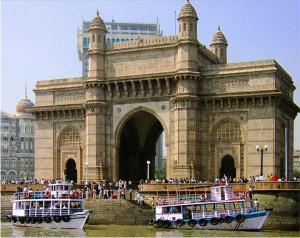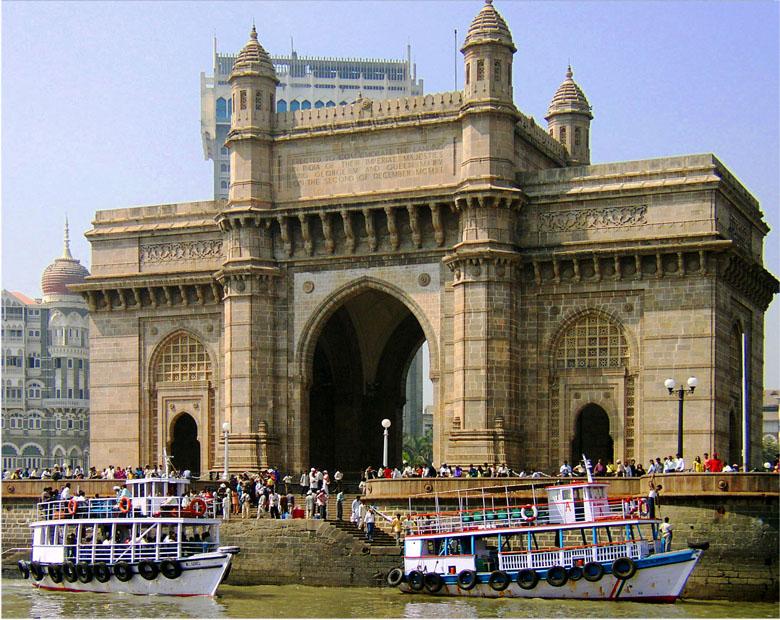 The Gateway of India (Marathi: भारताचे प्रवेशद्वार) is a monument in Mumbai (formerly Bombay), India. Located on the waterfront in Apollo Bunder area in South Mumbai, the Gateway is a basalt arch 26 metres (85 ft) high. It was a crude jetty used by fisher folks and was later renovated and used as a landing place for British governors and other distinguished personages. In earlier times, the Gateway was the monument that visitors arriving by boat would have first seen in the city of Bombay.
Its design is a combination of both Hindu and Muslim architectural styles, the arch is in Muslim style while the decorations are in Hindu style. The Gateway is built from yellow basalt and reinforced concrete. The stone was locally obtained, and the perforated screens were brought from Gwalior.
The central dome is 15 metres (49 ft) in diameter and is 26 metres (85 ft) above ground at its highest point. The whole harbour front was realigned in order to come in line with a planned esplanade which would sweep down to the centre of the town.
The Writing on the Gateway of India which reads "Erected to commemorate the landing in India of their Imperial Majesties King George V and Queen Mary on the Second of December MCMXI".
The Gateway of India was built to commemorate the visit of King George V and Queen Mary to Bombay, prior to the Delhi Durbar, in December 1911.
The last British troops to leave India, the First Battalion of the Somerset Light Infantry, passed through the Gateway in a ceremony on 28 February 1948.
From here people can visit Elephanta Caves by ferry boats. There are luxury boats which takes visitors around the harbour for couple of hours. In front of Gateway of India, there is a statue of Chatrapati Shivaji Maharaj..